$30 Meat Pack, by Richard Meros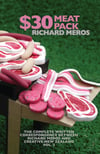 $30 Meat Pack is the second volume of correspondence between Richard Meros and Creative New Zealand, following on from Beggars and Choosers which Scoop Review of Books called a 'devilishly clever work of satire'.
Volume two sees a right wing government champion art for the sake of the nation, restructuring Creative New Zealand and reorienting artists away from glum navel gazing and towards a bright future of belt-tightening. Featuring applications such as Baby Boomer Funeral, Hugo's there! Mr Chavez what are we to do about our right wing government? and Dating Westerners: tips for the new rich from the developing world.
Book details
ISBN: 978-0-473-22900-9
Release date: November 2012
Paperback